When is it?
On Sunday 19 November 2023 churches will be marking Safeguarding Sunday together. But don't panic if you can't do this date. The more time you can dedicate to focus on safeguarding in a service, the greater the impact for your church, so if it has to be on a different day, that's okay too.
What is it all about?
Safeguarding Sunday is a safeguarding awareness raising campaign for churches run by the charity Thirtyone:eight. Each November, thousands of churches from diverse backgrounds and traditions across the UK come together to reflect on their own safeguarding journey, and to highlight and celebrate all the good work that is being done by so many behind the scenes to protect vulnerable people.
What will I get?
Our digital church resource pack will give you everything you need to plan and run your service, if you can give just a few minutes or can dedicate a whole Sunday morning, it all counts!
How do I take part?
Register your church using the form below and get access to all our resources to help you plan and run your service.
Register to get your FREE digital church resource pack!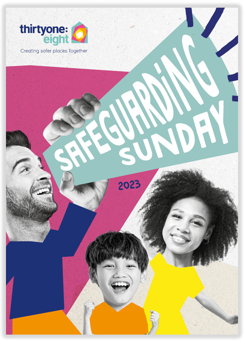 Here's what churches say:
"It was a powerful service and many people took part. It contributed and reinforced to the culture we want to create! We can't thank you enough."
Safeguarding Sunday 2022
"It has sparked conversations and introduced safeguarding as a normal part of our church life and our Christian walk. So powerful!"
Safeguarding Sunday 2022
"My safeguarding officer felt particularly affirmed, and it was probably the first time she'd been publicly prayed for in church like that."
Safeguarding Sunday 2022